Bike Parking Solutions that Complement Shopping Centers, Malls, and Retail Spaces Providing Convenient, Secure Bike Storage.
Shopping center bike racks and commercial bike storage solutions by CycleSafe enhance shopping centers, malls, and retail properties with convenient, secure bike parking and storage for shoppers, guests, and employees. CycleSafe offers a wide range of bike parking options that integrate and complement your shopping center spaces and landscape. CycleSafe incorporates space-saving designs and cost-efficient site furnishings including bike racks, bike lockers, bike shelters, bike corrals, bike rooms, and other bicycle parking and storage solutions for shopping centers.
Bicycle parking and storage solutions are increasingly in demand as communities introduce bike-friendly amenities such as bike lanes, bike paths, and multi-mode transportation options, and customers opt for bicycling to their shopping destinations. Secure bike parking offers and added amenity to guest services to attract shoppers to brick and mortar shopping venues. Let us help you find the perfect shopping center bike parking and storage solutions.
Bike Racks for Retail Centers
CycleSafe bike racks provide bike parking security, stability, and safety with Class II short-term parking for shopping centers, malls, and retail properties. We offer a wide range of bike rack options to complement shopping center spaces and landscapes and meet cyclists' convenience and security needs. We select product materials for long lasting durability, designed for use over decades, not years, including leading edge-coating technology for maximum corrosion and impact resistance, and protection of bike finishes.
Shopping Center Bike Lockers
CycleSafe Bicycle Lockers provide the highest security bike storage for shopping centers with protection from theft, vandalism, and weather. Our durable, virtually indestructible bike lockers are compression molded with non-corrosive, rust free, impact resistant, structural-grade composite materials with a graffiti/UV resistant polyurethane enamel paint finish. Install them on your shopping center properties for the proven, lowest cost of ownership over long-term use.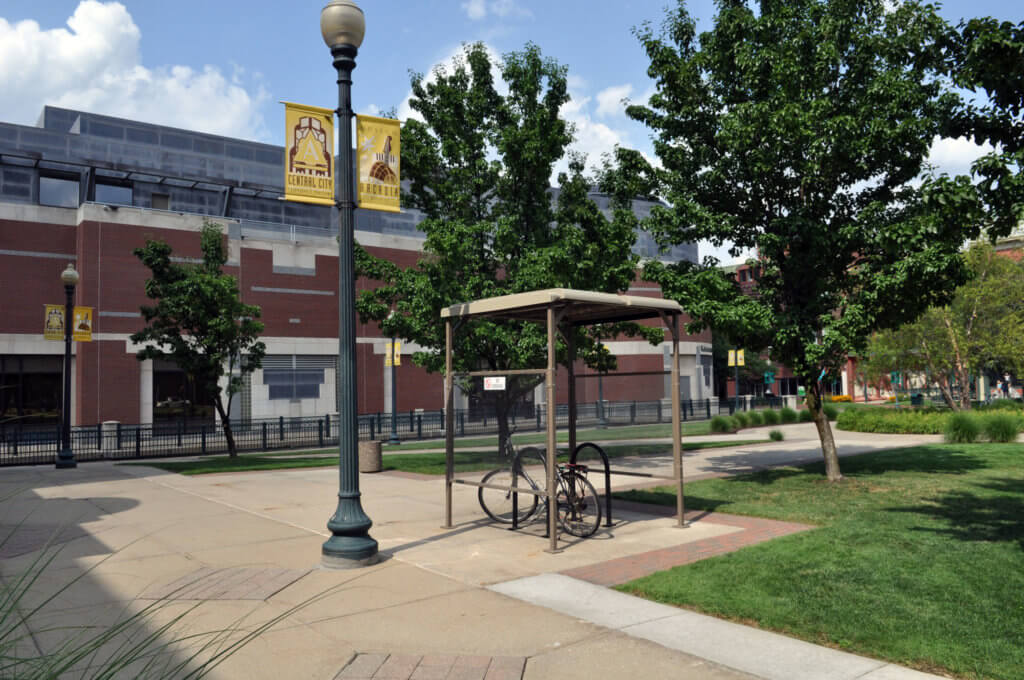 Shopping Center Bike Shelters
Bike shelters combine with our bicycle racks to meet on-demand, Class II bicycle parking for four to ten bikes per unit with covered protection. Compression-molded tops are contoured for runoff and support frames consist of heavy gauge steel tubing protected with polyester powder coat finishes. Add plexiglass, wire mesh, or perforated metal side panels for additional protection from the elements. These side panels allow retailers to add opportunities for signage or promotional graphics.
Retail Bike Corrals
Bicycle corrals allow for a more efficient use of space than other forms of bicycle parking to encourage traffic and economic activity for local businesses. Our bike corrals support and promote local business districts with bike accessibility and enhanced streetscapes. Bike corrals transform standard parking lanes or sidewalk areas into bike parking for 4-8 bikes per five-foot section. Bikes can be placed at 45-degree angles to increase pathways between pedestrian or traffic lanes. Our bike corrals include bike racks and bike stall options with in-ground, surface, and rail mount installations.
Bike Repair Stand & Bicycle Pumps
Our bike repair stand and self-service bicycle pump are perfect additions to your shopping center bike parking amenities, giving bicyclists a complete work stand and air inflation facility at your shopping center. Riders can make repairs and adjustments to their bikes with eight common bicycle tools permanently tethered to the stand with aircraft cable. Our bike stands and pumps are easy-to-use, affordable, and outdoor-rated, with durable, rugged, construction to withstand the elements and resist misuse and vandalism.
Bike Parking Resources
Municipal Bike Parking Solutions Case Studies
Related Articles
Bike Parking Installations
CycleSafe bike racks, lockers, corrals, and other bike parking and storage installations serve shoppers, guests, and employees at retail centers worldwide. Below are just a few of the property management, engineering, architectural, and construction firms with whom we worked to provide retail and commercial bike parking solutions.
Adolfson & Peterson Construction
Alta Planning
Austin Tao & Associates
C2AE
Carl Walker, Inc.
CH2M
Clark Construction
Cousins Properties
Dana B. Kenyon Company
Design Workshop
Fehr & Peers
Hilderman Thomas Frank & Cram
JJR, Inc.
Johnson Mirmiran & Thompson
Kimley Horn Assoc.
Knudson Construction
LandDesign, Inc.
Ledcor Construction
MCG Development
McKinley Properties
Oakhurst Capital Partners
Parsons Brinkerhof
PCL Construction
Peter A. Basile Sons Inc.
The RBA Group
Toole Design
URS Corporation