Campus Bike Parking Solutions that Use Space More Efficiently and Encourage Biking with Convenient, Safe, and Secure Bike Storage.
Make bike parking solutions an integral part of your university and college bicycle master plans to enhance the campus community experience at your college or university. Improve access to your campus and encourage biking as a viable, low cost transportation alternative that's a convenient and healthier choice for students, faculty, and for the environment. An investment in CycleSafe bike racks, bike lockers, bike shelters, bike corrals, and other bicycle parking infrastructure offer both short-term and long-term bicycle parking solutions to integrate into comprehensive college and university bike planning. Optimize transportation, bike storage, and bike security and support your college or university's LEEDs and carbon neutral, sustainability initiatives with bike parking solutions from CycleSafe.
Campus Bike Lockers
CycleSafe Bicycle Lockers provide the highest campus bike security, Class I long-term bike parking for colleges and universities with protection from theft, vandalism, and inclement weather. These durable, virtually indestructible bike lockers are compression molded with modern structural-grade composite materials which are non-corrosive, rust free, impact resistant, and with a grafitti/UV resistant polyurethane enamel paint finish. Install them on your college or university campus for the proven, lowest cost of ownership over long-term use, with a life span measured in decades, not years.
The University of Washington has been buying CycleSafe lockers since 1981, and we have never found a better constructed or more secure bike locker on the market. With almost 240 bike lockers in use, the University of Washington is often asked by other public agencies and universities for advice on what brand of locker to buy. Without hesitation, we recommend CycleSafe as the best bike locker on the market.
Campus Bike Racks
CycleSafe outdoor bike racks provide campus bike parking security, stability, and safety with Class II short-term parking for university and college campus spaces where temporary bike parking is required. We offer a wide range of university bike rack options to compliment your campus landscape and meet your cyclists' convenience and security needs with a variety of installation styles. We select product materials for long-lasting durability, designed for use over decades, not years, including leading-edge coating technology for maximum corrosion and impact resistance, and protection of bike finishes.
Cyclesafe also offers a complete line of indoor bike racks for campus bike rooms.
Campus Bike Shelters
Bike shelters combine with our bicycle racks to meet on-demand, Class 2 bicycle parking for four to ten bikes per unit with covered protection from the elements. Compression-molded tops are contoured for runoff and support frames consist of heavy gauge steel tubing protected with polyester powder coat finishes. Add plexiglass, wire mesh, or perforated metal side panels for additional protection from the elements. These panels can also be used for college signage or promotional graphics.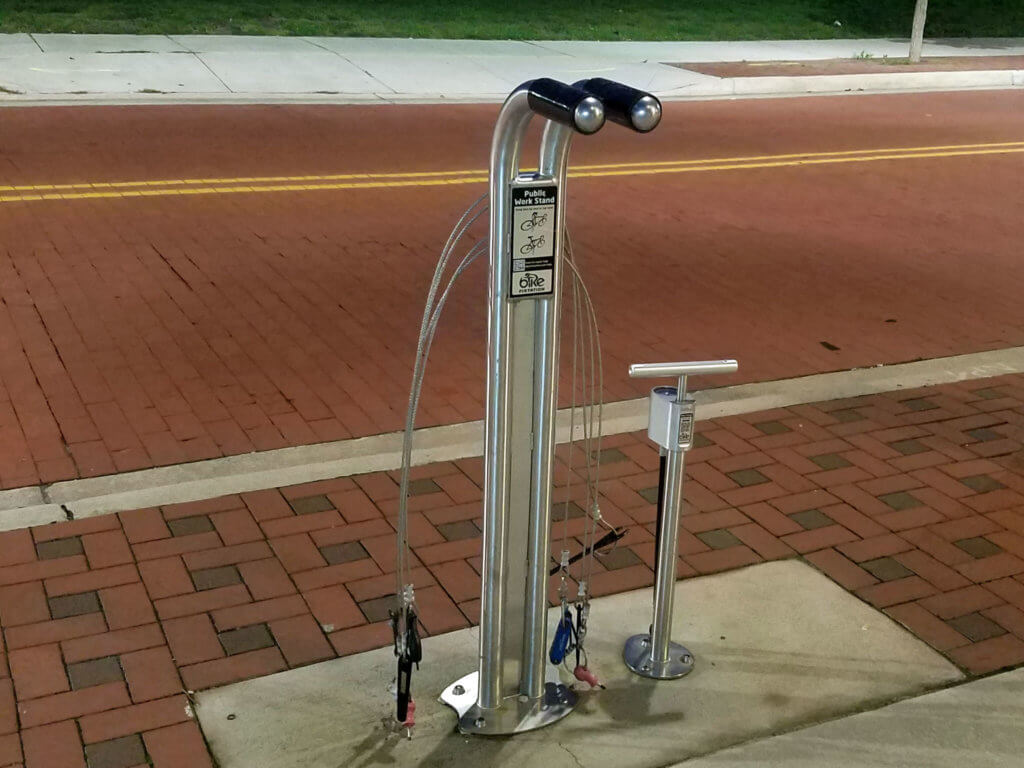 Bike Repair Stand & Bicycle Pumps
Our bike repair stands and self-service bicycle pumps are perfect additions to your bike parking infrastructure, giving bicyclists a complete work stand and air inflation facility on your college or university campus. Riders can make repairs and adjustments to their bikes with eight common bicycle tools permanently tethered to the stand with aircraft cable. Our bike stands and pumps are easy-to-use, affordable, and outdoor-rated, with durable, rugged, construction to withstand the elements and resist misuse and vandalism.
Bike Parking Resources
College and University Bike Parking Solutions Case Studies
Related Articles
University and College Bike Parking Installations
CycleSafe bike lockers and bike parking systems are installed numererous on college and university campuses throughout North America and the world. Here are just a few of the higher education organization that trust CycleSafe.
California State University
Ellisville State School
McMaster University
Oregon Health and Science University
Rutgers University
Sacramento State University
San Francisco State University
Stanford University
State University of New York
UC Santa Barbara
University of Edinburgh
University of Michigan
University of Minnesota
University of Oregon
University of San Francisco
University of Washington
University of Wisconsin
University of Vermont
Wesleyan University