Municipal Bicycle Master Plans with Safe Cycling Infrastructure and Secure Bike Parking at End-of-Trip Facilities Boost Bicycle Ridership.
More and more cities, villages and townships are developing long-term municipal bicycle master plans and building out complete streets and bicycling infrastructure. And no wonder, as social benefits from cleaner air and less traffic congestion to local economic boosts and healthier lifestyles make bicycling an appealing choice for communities and residents. Key to successful plan implementation and increasing ridership are inclusion of end-of-trip facilities that offer ample, safe, and secure municipal bike parking and storage. CycleSafe bike parking solutions add both aesthetics and function to municipal bicycle infrastructure, offering a wide range of bike racks, bike lockers, bike shelters, bike corrals, and other municipal bike storage solutions. We work with urban planners, city engineers, transportation planners, community development groups and their engineering and design firms to integrate attractive, cost-efficient bike parking solutions into their municipal bicycle master plans.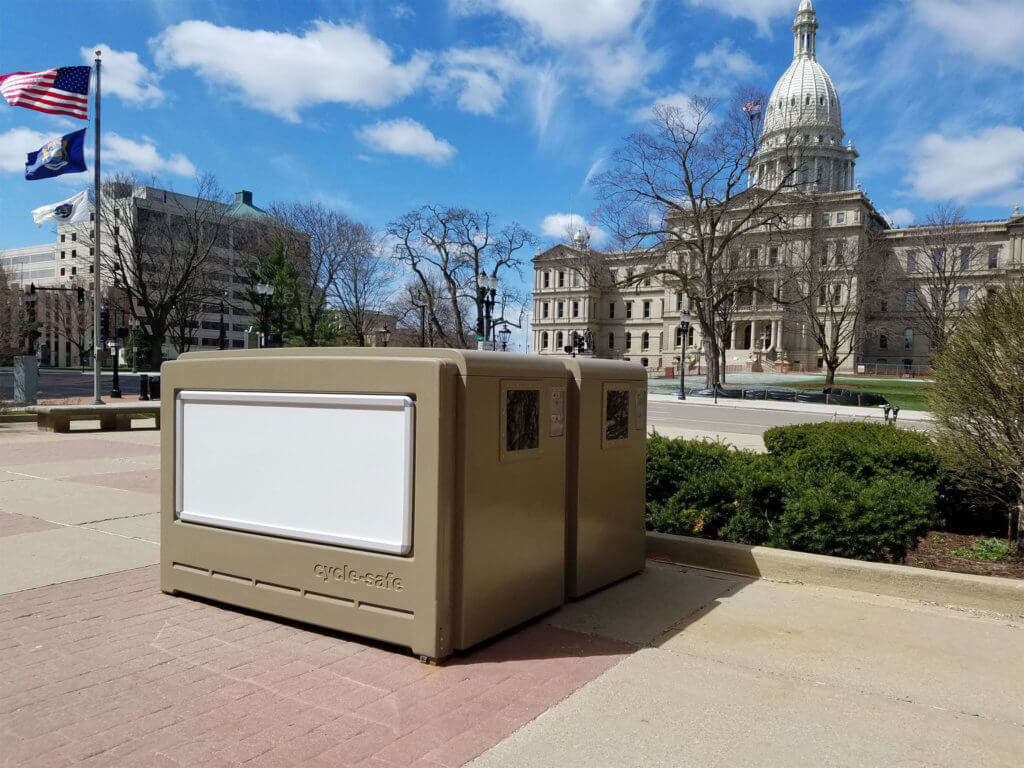 Municipal Bike Lockers
CycleSafe Bicycle Lockers provide the highest security bike parking with Class I, long-term municipal bike parking with protection from theft, vandalism, and weather. Our durable, virtually indestructible bike lockers are compression molded with non-corrosive, rust free, impact resistant, structural-grade composite materials with a graffiti/UV resistant polyurethane enamel paint finish. Install them along bike your municipal bike paths, routes, parking garages, municipal buildings and community destinations for the proven, lowest cost of ownership over long-term use.
I have seen the lockers at City Hall with protestors jumping up and down on them. A good testament to their strength". (These are original CycleSafe installations from over 30 years ago)
Municipal Bike Racks
CycleSafe bike racks provide bike parking security, stability, and safety with Class II short-term municipal bike parking solutions. We offer a wide range of cost-efficient, attractive bike rack styles to complement all your municipal and community destinations and spaces. We select product materials for long lasting durability and sustainability, including leading edge-coating technology for maximum corrosion and impact resistance, designed for decades of use.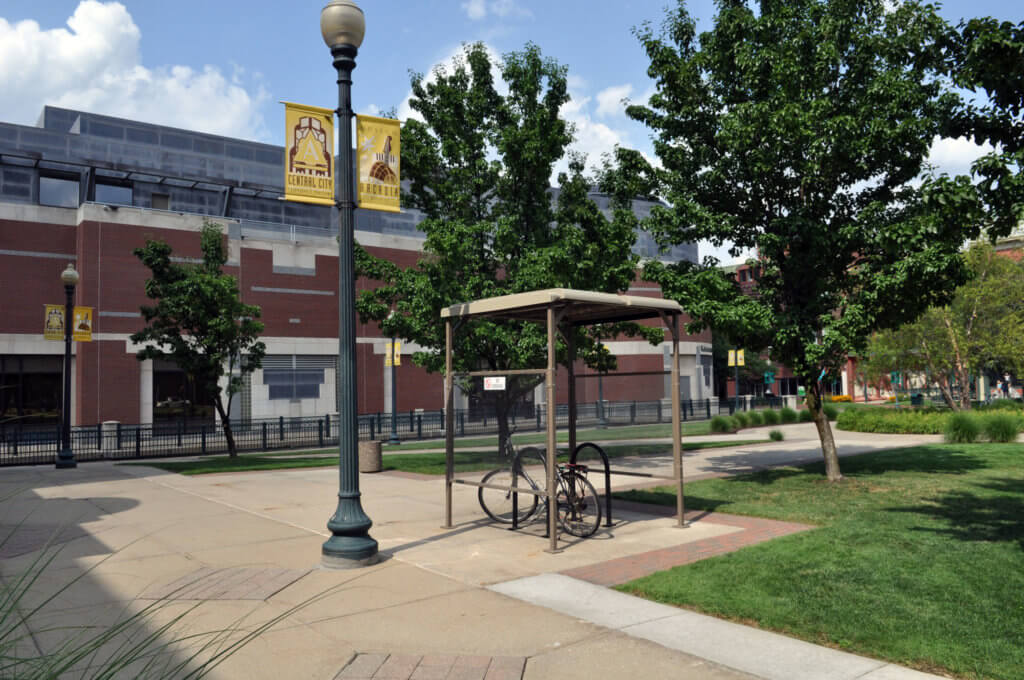 Municipal Bike Shelters
Bike shelters combine with our bike racks to meet Class II bicycle parking for four to ten bikes per unit with covered protection. Contoured, compression-molded tops facilitate runoff, and heavy-gauge steel tubing support frames protective polyester powder coat finishes. Optional wire, mesh, or Plexiglas side panels add additional protection from the elements and provide opportunity for municipal logos, signage or graphics panels.
Municipal Bike Corrals
Our municipal bike corrals support and promote local business districts with bike accessibility and enhanced streetscapes. Bike corrals transform standard parking lanes or sidewalk areas into bike parking for 4-8 bikes per five-foot section. Bikes can be placed at 45-degree angles to increase pathways between pedestrian or traffic lanes. Our bike corrals include bike racks and bike stall options with in-ground, surface, and rail mount installations.
Bike Repair Stand & Bicycle Pumps
Our bike repair stands and self-service, public bicycle pumps are perfect amenities to municipal bike paths, bike routes, and destination spaces, giving bicyclists a complete work stand and air inflation facility. Eight common bicycle tools are permanently tethered to the stand with aircraft cable for convenient on-site repairs and adjustments. They're easy-to-use, affordable, and outdoor-rated, with durable, rugged construction to withstand the elements and resist misuse and vandalism.
Bike Parking Resources
Municipal Bike Parking Solutions Case Studies
Related Articles
Municipal Bike Parking Installations
These municipalities are just a few of the communities who have chosen quality CycleSafe bike racks, lockers, and other bike parking solutions to help complete their municipal bike parking master plans.
City of Phoenix
City of Indianapolis – Bikeport LLC
Mid-America Regional Council
Missoula In Motion
City of Toronto
Cincinnati Police Department
City of Upland
Dakota County
City of Grand Rapids
CID Corry Station
OKI Regional Council of Governments
Regional Municipality of Waterloo
City of Blue Springs
City of Amsterdam
City of San Francisco