Include Bike Parking Solutions in your Site Furnishings Plan for Attractive, Functional Amenities for Buildings, Landscapes, and Urban Spaces.
Integrate CycleSafe bike parking solutions into your site furnishings plan to add both beauty and function to your outdoor spaces. We work with landscape architects, building contractors, engineers, urban planners, design professionals, property owners and others, providing attractive, secure bike parking solutions to complement and complete your site furnishings. CycleSafe offers a wide range of bike parking options including custom designs and cost-efficient, space-saving features. Our contract furnishings product selection includes bike racks, bike lockers, bike shelters, bike corrals, and other bicycle parking storage and service solutions.
Site Furnishings: Bike Lockers
CycleSafe bicycle lockers provide the highest security bike parking with protection from theft, vandalism, and weather. Our durable, virtually indestructible, outdoor furniture bike lockers are compression molded with non-corrosive, rust free, impact resistant, structural-grade composite materials with a graffiti/UV resistant polyurethane enamel paint finish. Install them on your properties for the proven, lowest cost of ownership over long-term use.
The University of Washington has been buying CycleSafe lockers since 1981, and we have never found a better constructed or more secure bike locker on the market. With almost 240 bike lockers in use, the University of Washington is often asked by other public agencies and universities for advice on what brand of locker to buy. Without hesitation, we recommend CycleSafe as the best bike locker on the market.
I've had years of experience with five or six other bike locker brands, and CycleSafe provides the best-quality. I feel we've made an excellent investment. CycleSafe offers the best of both worlds. They meet our facility's requirements, blending well aesthetically with the building and landscaping, while proving highly functional for the cyclist.
Site Furnishings: Bike Racks
CycleSafe Bike Racks provide bike parking security, stability, and safety with Class II short-term parking for buildings, outdoor landscapes, and urban spaces. We offer a wide range of bike rack options to complement all your site furnishings and the spaces they reside in. We select product materials for long lasting durability and sustainability, including leading edge-coating technology for maximum corrosion and impact resistance.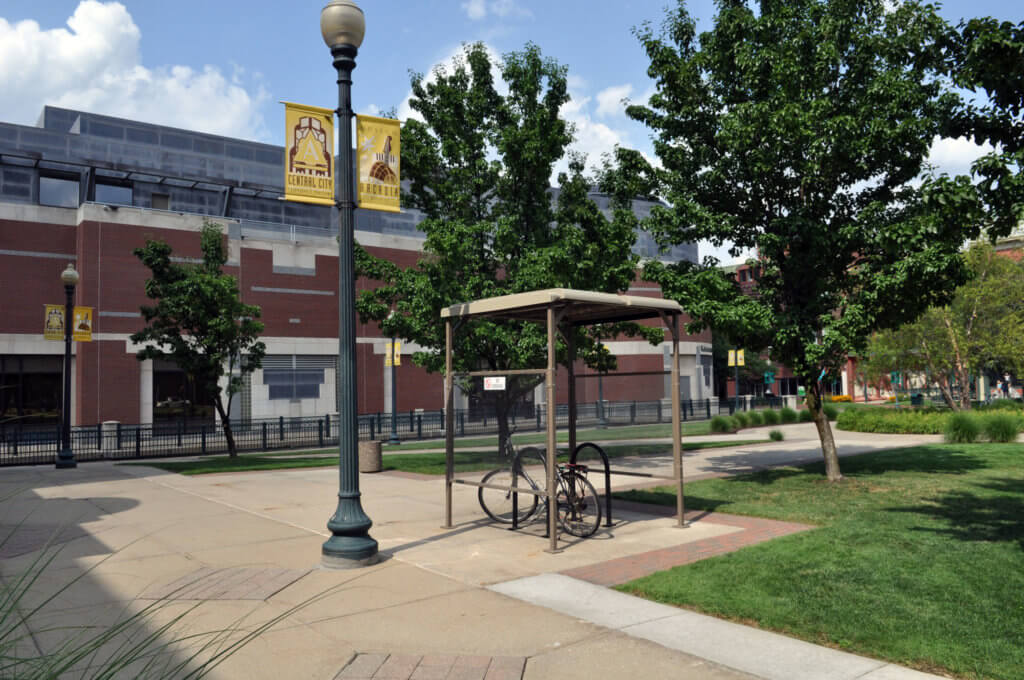 Site Furnishings: Bike Shelters
Bike shelters combine with our bike racks to meet on-demand, Class II bicycle parking for four to ten bike per unit with covered protection. Compression-molded tops are contoured for runoff with heavy-gauge steel tubing frames for support, protected with polyester powder coat finishes. Add wire, mesh, or Plexiglas side panels for additional protection from the elements, with options for signage or graphics panels.
Bike Repair Stand & Bicycle Pumps
Our bike repair stand and self-service bicycle pump are perfect additions to your bicycle contract furnishings, giving cyclists a complete work stand and air inflation facility. Bikers can make repairs and adjustments to their bikes with eight common bicycle tools permanently tethered to the stand with aircraft cable. Our bike stands and pumps are easy-to-use, affordable, and outdoor-rated, with durable, rugged, construction to withstand the elements and resist misuse and vandalism.
Bike Parking Resources
Bike Parking Site Furnishings Case Studies
Related Articles
CSI Divisions
The Construction Specifications Institute's MasterFormat organizes products into CSI divisions. CycleSafe bike parking solutions can be found in:
CSI division 12 9315 – Bicycle Locker
CSI division 12 9310 – Site Furnishings: Bicycle Racks
Contract Furnishings Installations
These landscape architects, building contractors, and engineers along with building owners, property managers, urban planners and others are among our clients who have chosen quality CycleSafe bike racks, lockers, and other bike parking solutions to complement and complete their site furnishings.
Adolfson & Peterson Construction
Alta Planning
Austin Tao & Associates
C2AE
Carl Walker, Inc.
CH2M
Clark Construction
Cousins Properties
Dana B. Kenyon Company
Design Workshop
Fehr & Peers
Hilderman Thomas Frank & Cram
JJR, Inc.
Johnson Mirmiran & Thompson
Kimley Horn Assoc.
Knudson Construction
LandDesign, Inc.
Ledcor Construction
MCG Development
McKinley Properties
Oakhurst Capital Partners
Parsons Brinkerhof
PCL Construction
Peter A. Basile Sons Inc.
The RBA Group
Toole Design
URS Corporation