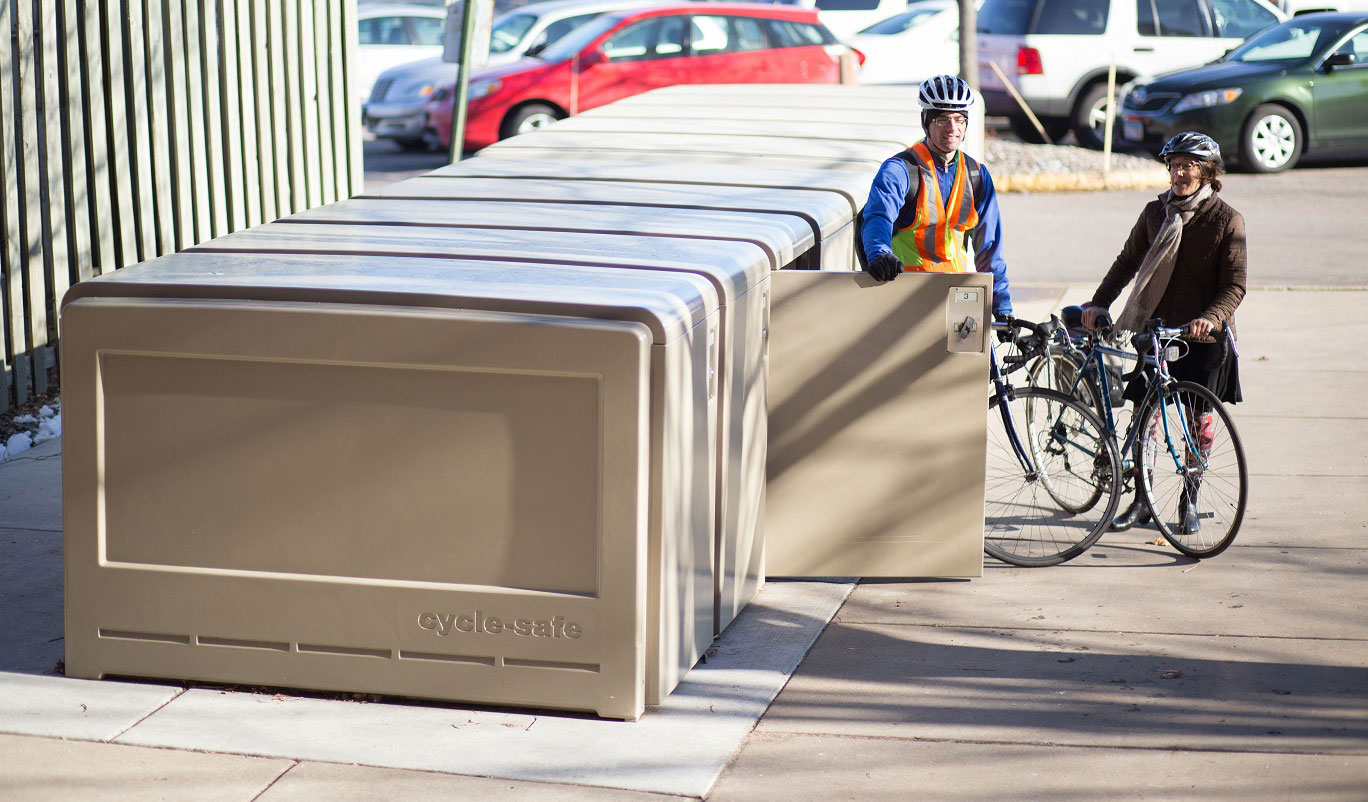 CycleSafe of Grand Rapids has announced a strategic new partnership for app-based bike locker rental, payment and use.
Bicycles are an energy-efficient and healthy form of transportation. However, for many riders, the availability of bike storage is a significant factor that limits use with millions of bikes stolen every year. "Bike owners love seeing our products at train stations, office buildings and community centers because they know they will find their bike dry, clean and safe when they return." says Richard Hartger, President and CEO of CycleSafe. A bike locker offers a covered and locked storage unit for one or two bicycles. CycleSafe's design requires a smaller footprint per bike than a simple U-channel bike rack, and also allows storage for a helmet and other gear.
Most bike locker systems utilize a key management program that requires an administrator to manage and replace keys, an obstacle for the cyclist and burden for management.
Now CycleSafe has added another element of security and convenience to bike locker rental through a custom app for reservation and payment. "We partnered with Movatic of Ann Arbor to simplify two things," continues Hartger. "For bike riders, it is much easier to reserve and pay for a locker via a smart phone rather than with cash or credit card. Phones are convenient, and simple to use, providing 24 hour service. For the property managers who have to keep track of reservations, payments and keys, this is also a great approach. The bike locker becomes a self-service benefit that that does not require onsite staffing."
When a rider reserves a CycleSafe locker through the Movatic app, they can see all available locker locations on a map. The rider simply chooses the desired location and selects an available locker. After a quick credit card entry, the locker rental begins. When the renter is ready to use the locker, he or she simply taps a button, and the app connects via Bluetooth to unlock the door. A rider can open and close the locker as many times as needed, and rent the locker as long as desired, all by using the app. No cash or keys are required. When finished with the locker, the user simply ends the rental on the app, which re-locks the door until the next user selects and pays for that locker.
An equally important feature of this new system is that it can be retrofitted to existing lockers. CycleSafe has an installed base of lockers all over the country, many of which require payment for rental. Now property managers, city officials and others can choose to implement the app-based rental and payment system to extend the utility of their existing investment.
"We know that property owners and cyclists love our bike lockers," says Hartger. "This new service continues to simplify the process of bike locker rental for riders, and removes the tedious details of transaction management from the building owner. "
About CycleSafe: We have set the standard for security, reliability and innovation in bike storage worldwide since 1985. Our products complement communities and encourage cycling with dependable products that last.