APBP Guidelines Help When Designing Bike Parking
Long-term bike parking is typically designed for employees, residents, public transportation riders, and others who leave their bicycles unattended for several hours or longer. Such parking can take the form of an indoor room, an enclosure in a parking garage, or a cluster of bike lockers. Long-term parking can be made available for public use or contracted personal use.
While short-term bicycle parking benefits from visibility, long-term parking users value security and weather protection above all. By providing an adequate number and variety of bicycle styles, bike parking can encourage cycling and help deter users from leaving bikes in less desirable places.
It can be a challenge to find secure, durable solutions that you can depend on for long term use. CycleSafe lockers are available in a wide variety of configurations that provide the weather protection and security recommended by the APBP. The high-strength poly-resin composites outperform and outlast other options on the market. CycleSafe bike lockers also provide locking mechanisms crucial to dependability.
Bike Lockers Provide Flexibility, Security, and Weather Protection
Each CycleSafe bike locker includes a diagonal partition that forms two space-efficient triangular stalls that secure one bike per door. Lockers come standard with a door on each side to accommodate two bikes, or as a single-door option that allows lockers to be placed up against a wall or other landscaping. ProPark bike lockers are a modular product that can be expanded into locker rows of two to twenty units. CycleSafe makes designing a ProPark bank easy with our bike locker selection matrix.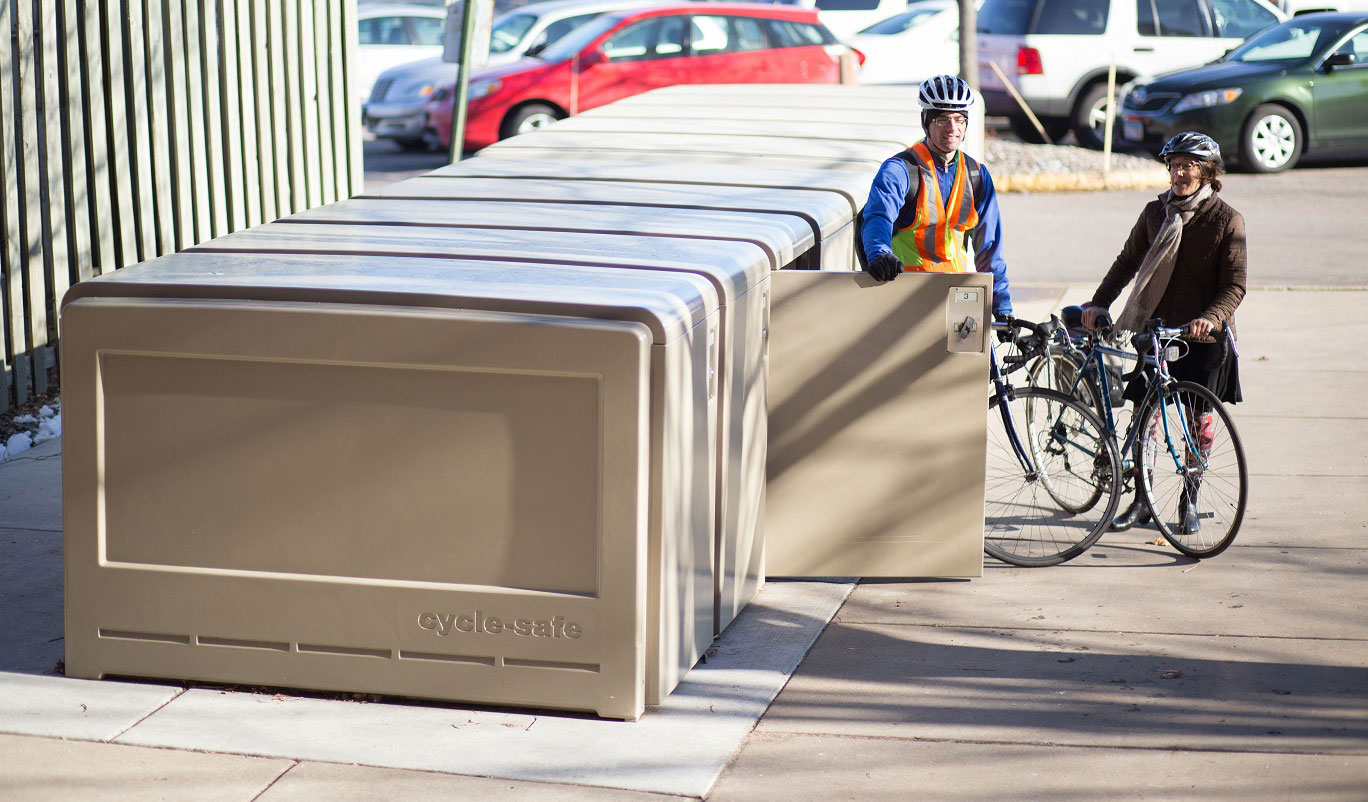 CycleSafe's EcoPark is a medium security locker that acts as a stand-alone unit, but can be placed side-by-side in order to achieve a bike locker bank. The EcoPark locker is a great choice for sites that lower security needs or additional measures in place, such as on site surveillance or campus security. EcoPark units fit in compact spaces with a reduced footprint.
CycleSafe lockers are permanently anchored and lockable for maximum security, with a number of lock types available. Choose from key access with T-handle or ADA slam latch, or allow cyclists to secure the lockers with their own padlock or U-lock. Technology creates on demand access with reporting data of use. CycleSafe's Bluetooth cellular option allows users to access bike lockers using their smartphones. Keypad lockers feature a programmable push button keypad with keyed access. Keypad + WiFi allows remote operation via WiFi and keycode, while the Keypad + WiFi + RFID option includes RFID proximity card or fob reader with keycode operation.
CycleSafe can help ensure you make the most out of your bike parking investment. For more information about short- and long-term bike parking guidelines and product options, visit apbp.org and cyclesafe.com.