Bike Parking solutions are best chosen by project type. This week's blog post is breaking down 5 most common bike parking project types and what solutions we recommend utilizing.
Our family of products are designed with the user in mind, and made using materials that have been chosen for long-lasting durability and appearance. This attention to detail has allowed our products' lifetime to be measured in decades — not years.
Multifamily building and commercial locations, places in need of easy access bike parking
With urban square footage costs at a premium, CycleSafe bike parking and storage solutions incorporate space-saving designs for cost-efficient space utilization, including our vertical Bike Wall Racks, WallRack Stands, and more. We work with multi-family housing and apartment building developers, architects, building owners, property managers, and others to optimize bike parking and storage on their properties. Low-Density spaces include smaller apartment complexes, commercial bike rooms, and smaller school and corporate bike rooms.
Recommendations: WallRack, FenderRack, FattyRack, WallRack Stand, Angled Bike Stall, Straight Bike Stall, Hi-Lo Bike Stall, TreeRack, Rail Mount Bike Rack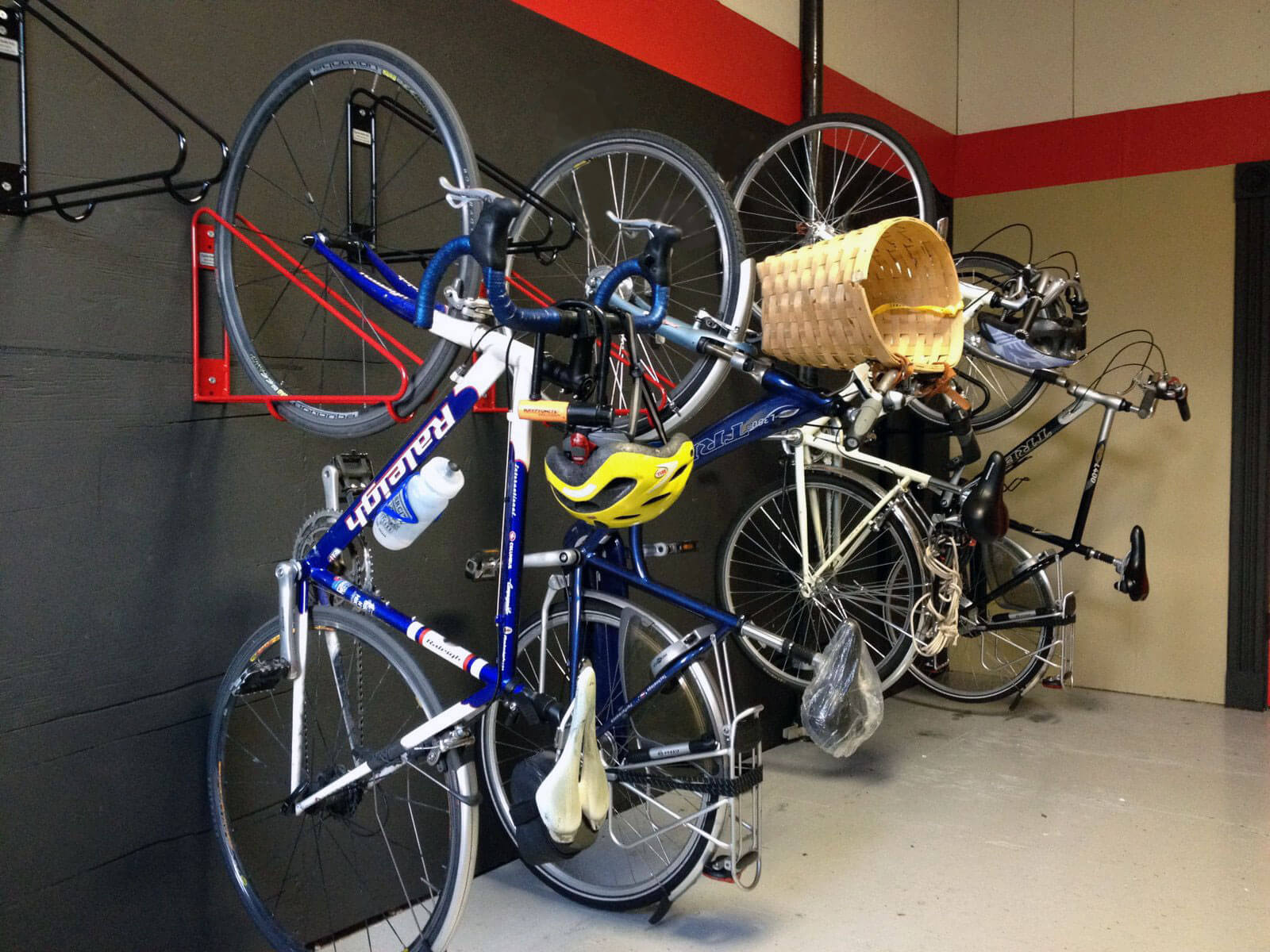 Large residential buildings, police bike rooms — private locations.
CycleSafe two-tier bike racks and vertical stands are ideal for long-term space-saving parking. These lockable bike storage solutions offer security, stability, and safety for multi-family housing, apartment buildings, and corporate bike rooms. We offer a wide range of indoor and outdoor bike racks to compliment your properties and meet your convenience and security needs. The High Density QuadRack offers the smallest footprint available for parking solutions on the market.
Recommendations: Quad Racks, WallRack Stand, TreeRack, WallRack, FenderRack, FattyRack
3. Campus Bike Parking
Corporate, School, University, Healthcare
An investment in CycleSafe bike racks, bike lockers, bike shelters, bike corrals, and other bicycle parking infrastructure offers both short-term and long-term bicycle parking solutions that can integrate into a comprehensive campus bike parking plan. Optimize transportation, bike storage, bike security and support with larger sustainability initiatives of your organization. Branding opportunities are endless with custom bike racks, poster grip frames, and custom color bike lockers and racks. Create full service bike parking and support hubs by integrating lockers, shetlers, racks, work stands and pumps.
Recommendations: ProPark Lockers, EcoPark Lockers, Inverted U Racks, Vintage Racks, Modern Racks, CyclePark, Custom Racks, Staple Racks, Rail Mounted Bike Racks, Bike Shelters
4. Streetscape Bike Parking
Retail, Municipal, Urban, CALgreen, Transit, Site Furnishings
More and more cities, villages, and townships are developing long-term municipal bicycle master plans taking into mind complete street design and including more bicycling infrastructure. And no wonder as social benefits ranging from cleaner air and less traffic congestion to local economic boosts and healthier lifestyles makes bicycling an appealing choice for communities and residents. The key to successful plan implementation and increasing ridership includes end-of-trip facilities that offer ample, safe, and secure municipal bike parking and storage. CycleSafe's bike parking solutions are customizable to match the aesthetics of your neighborhood, and will outlast the competition.
Recommendations: ProPark Lockers, EcoPark Lockers, Inverted U Racks, Vintage Racks, Modern Racks, CyclePark, Custom Racks, Staple Racks, Rail Mounted Bike Racks, Bike Shelters
5. Multi Modal Parking Locations
Mobility hotspots, parking garages, rideshare lots, mass transit lots, airport parking
Long term parking locations including bike parking has become standard in many parts of the United States and Canada. Bike lockers give riders the peace of mind that their ride will be there after working all day or being gone for consecutive hours. CycleSafe supports the first-mile & last-mile that makes or breaks an alternative transportation trip with lock options that support on-demand bike parking, or membership based bike parking. Bike shelters also can provide an extra layer of protection from the elements at sites where short term parking solutions are desired.
Recommendations: ProPark Lockers, EcoPark Lockers, Inverted U Racks, Vintage Racks, Modern Racks, CyclePark, Custom Racks, Staple Racks, Rail Mounted Bike Racks, Bike Shelters
Products Selector
Products
Features
Inverted U Racks
Bike U Rack
Bike U Rack w/ Crossbar

Mount: Surface, In-ground, Rail
Finish: Plastisol, Powder Coat, Stainless Steel
Color: Traffic Black RAL 9017 (standard), Custom Color
Overview: Freestanding

Staple Rack

Mount: Surface, In-ground, Rail
Finish: Powder Coat
Color: Traffic Black RAL 9017 (standard), Custom Color
Overview: Freestanding

Vintage Rack
Modern Rack
Cycle Park

Mount: Surface, In-ground, Rail
Finish: Powder Coat
Color: Traffic Black RAL 9017 (standard), Custom Color

Custom Bike Rack

Overview: Freestanding, Design Options

Racks on Rails

Mount: Surface
Finish: Plastisol, Powder Coat
Color: Traffic Black RAL 9017 (standard), Custom Color
Overview: Freestanding, Design options

Vertical Bike Parking
Original WallRack
FattyRack

Mount: Wall, Chain-Link Fence
Finish: Powder Coat, Stainless Steel
Color: Traffic Black RAL 9017 (standard), Custom Color
Overview: Floor Space Saving

FenderRack

Mount: Wall
Finish: Powder Coat
Color: Traffic Black RAL 9017 (standard), Custom Color
Overview: Floor Space Saving

Bike Tree Rack

Mount: Surface, Wall. Freestanding
Finish: Powder Coat
Color: Traffic Black RAL 9017 (standard), Custom Color
Overview: Freestanding, Expandable, Floor Space Saving

WallRack Stand

Mount: Strut Base, Post Base
Finish: Powder Coat
Color: Traffic Black RAL 9017 (standard), Custom Color
Overview: Freestanding, Floor Space Saving

High-Density Bike Parking
Quad High-Density Bike Rack

Mount: Freestanding, can be surface mounted
Finish: Powder Coat
Color: Traffic Black RAL 9017 (standard), Custom Color
Overview: Freestanding, Space Saving

Straight Bike Stall
Angled Bike Stall
Hi-Lo Bike Stall

Mount: Strut Base, Post Base
Finish: Powder Coat
Color: Traffic Black RAL 9017 (standard), Custom Color
Overview: Freestanding, Space Saving

Long Term Bike Parking
Bike Lockers
ProPark Bike Locker

Material: Fiberglass SMC
Configuration: Modular with interlocking parts that create banks
Size: 10 square feet
Lifespan: 40+ years
Color: Sandstone, Custom Color

EcoPark Bike Locker

Material: Fiberglass SMC and Stainless Steel
Configuration: Individual lockers that can be placed side by side to create banks
Size: 9 square feet
Lifespan: 15+ years
Color: Sandstone, Custom Color

Bike Shelters
CyclePort

Material: Fiberglass SMC and Steel frames
Configuration: Modular with interlocking parts that create banks
Size: from 4 to 12 or more bikes
Lifespan: 20+ years
Color: Sandstone, Custom Color
Compatible Racks: Inverted U Racks, Quad Racks, WallRack Frame

Compact Shelter

Material: Fiberglass SMC and Steel frames
Configuration: Compact to allow maximum space efficiency
Size: 4 bikes
Lifespan: 20+ years
Color: Sandstone, Custom Color
Compatible Racks: WallRack Frame

Pocket Shelter

Material: Fiberglass SMC and Steel frames
Configuration: Compact footprint perfect for placing over existing bike racks
Size: 2 bikes
Lifespan: 20+ years
Color: Sandstone, Custom Color
Compatible Racks: Inverted U Racks
Still have questions? Connect with an Expert